Exhibitions
Exhibitions update Spring 2021
Where have I been since 2017? I managed to 'escape to the country' and moved to the Ashdown Forest. Since moving to the Forest we have taken a break from exhibitions whilst we concentrate on renovating our house, creating a garden / kitchen garden where there was once a derelict garage…. and building a jewellery studio for me at the bottom of the garden! Then the pandemic hit and returning to exhibiting became a little more complicated. So, keep an eye on the website for a mega update with lots of new jewellery photography that I've been working on during the long winter lockdown and a possible pop up exhibition at the Brighton & Hove Open Houses in June 2021.
RHS Wisley, 28th April – 2nd May 2016
It's official, I fell in love with Wisley in 2012, and love to exhibit here! Held in the flagship gardens at RHS Wisley this event is one of the premier events of the year to buy from the country's finest designer makers. The event is held mainly in marquees. However, visitors can discover a diverse range of sculptures, garden art and outdoor exhibits as they visit the world renowned gardens and the state of the art glasshouse.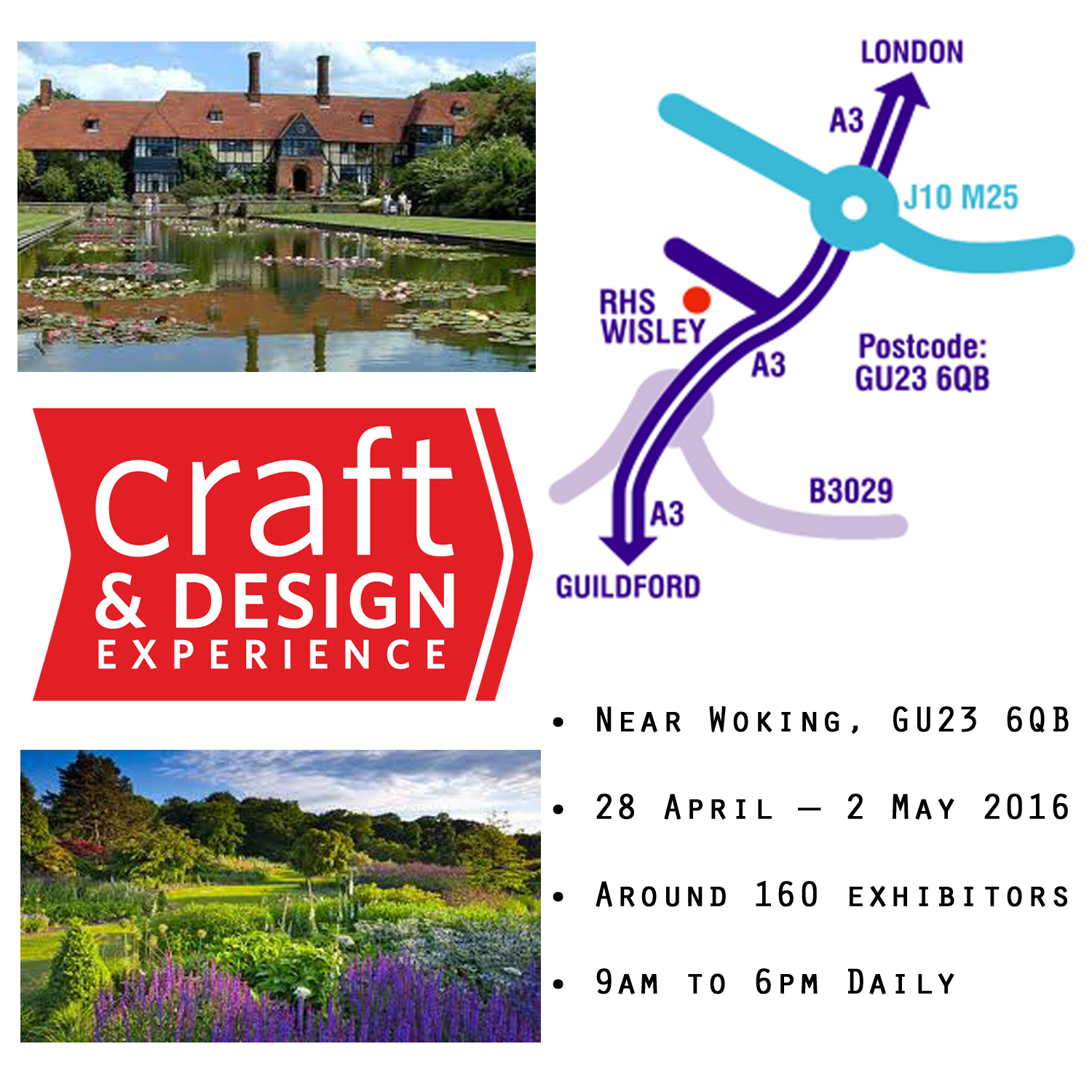 Bovey Tracey, Devon, 10-12 June 2016
I'm very excited to have been selected for this prestigious event this year and am looking forward to a Devon cream tea (or two). As well as showcasing over 200 of the UK's finest designer makers,  The Contemporary Craft Festival is a weekend event, packed with workshops and activities for all ages, craft demonstrations, children's activities and entertainment, live music and festival food.
RHS Hyde Hall, 26-29 August 2016 (August Bank Holiday weekend)
I'm pleased to be returning to this beautiful RHS property with the organisers of the Wisley and Winchester events. The Hyde Hall estate  is 360 acres, allowing visitors to immerse themselves in nature. I grew up just down the road from here and my family are still in the area so am really looking forward to this one, being able to bring the dog with us (and the free accommodation)!
Farnham, 17 September – 5 November 2016
I'm happy to have been selected by the ACJ to exhibit work from my Decca collection along with other ACJ members at the New Ashgate Gallery in Farnham. For more than 50 years the New Ashgate Gallery has championed the best of contemporary art and craft providing an unparalleled resource in Farnham, Surrey and beyond. The work of ACJ members is broad work in a myriad of materials, from paper & plastics to precious metals, titanium, copper, enamel, steel, found objects and much more. Crossing the boundaries between body adornment and wearable sculpture, the work is exciting, thoughtful and fresh.
Winchester, 11-13 November 2016
I'm back again at another of my favourite venues for the Desire Jewellery and Silversmithing Fair in the stunning Winchester Guildhall. Desire has become firmly established as the 'must visit' event for its stunning collection and unrivalled choice of contemporary jewellery and stylish silverware.
Previous exhibitions at other venues (if you're wondering where you may have seen my work include):
Desire Jewellery & Silversmithing Fair: Kensington, March 2015
Essex Art & Design Show: Hylands House, November 2011 / 2012 / October 2013.
Essex Craft & Design Show: RHS Hyde Hall, July 2013
Helen Rollason Cancer Charity  Christmas Food & Craft Fayre: Cressing Temple, December 2011
I Love Art: Brighton & Hove Open Houses, December 2010
I Love Art: Fishing Quarter Gallery Open Houses, May 2011
J'adore Jewellery Show, Putteridge Bury, Luton, October 2012
London Jewellery Week, Treasure, June 2011
Open House Exhibition Brighton & Hove: Montrose, December 2009
Open House Exhibition Brighton & Hove: Star of Brunswick, May 2010
Salisbury Contemporary Craft and Heritage Fayre, September 2014
Southhill Park: Bracknell, November 2010
The Great British Craft Fair: Culcheth, March 2011
The Jewellery Quarter at The Essex Art & Design Show: Cressing Temple Barns, September, September 2013, 2012, 2011, 2010
The Towner with Chalk Gallery: Eastbourne October 2015
Stockists
I currently sell exclusively at shows, or you can order via this website. If you have seen an item at a show, but cannot find it on this website, it's more than likely simply not shown as I'm catching up with photography on a lot of my new pieces – I'm more prolific at producing the jewellery than photographing! Please do feel free to email me if this is the case…